Hai friends! How are you? How's the week?
Maybe you've noticed, maybe not, but lately my travel game as of late has been super local - in California pretty much, besides Cleveland for a wedding, Dallas for work and Florida for family. I've done Palm Springs (behind on that weekending guide), Santa Barbara, Malibu and really staying in California.
So obviously I'm anxious for the next trip, and was so happy that my dad acquired dad guilt and is now realizing my sister and I are getting older. He said something along the lines of 'realizing that his daughters won't be single (unmarried) for too much longer'. He probably doesn't know that I have a few more years....but I'll take it.
So after some research and basically me just taking the reigns on this (like I do most things involving group decisions hehe), I planned a trip for us to go to....




Vietnam!
HANOI & HALONG BAY
HO CHI MIN CITY
SIAGON
Bow chica bow wow OH YAH.
Sigh. #dadsrule
I mean you can't do Thailand with your dad (too sexy like I don't want to be on a secluded beach with my dad ew), I feel good about my Europe travels, and after you've seen one Church you've seen them all.
Plus I've never been to Asia.
I was thinking about my packing game, and some of the key things I bring when traveling internationally, whether to London for work, or for fun anywhere else. It's honestly a craft. Fitting all your things in is like Tetris. Making sure it's not liquid if you carry on (I always get caught) and making sure your outfits match your activities, the temperature, weather and vibe, is a talent that people get paid lots of money for.
How you travel, says so much about you as a person...
I'm serious!
Like, it exposes crazy little things about you!
I pack 1003423 packs of vitamins and protein bars. I always bring more shoes than I ever wear, I sleep as soon as we take off, and when I fly I always write down (or re-write) my current goals in my journal. I also have an obsession with dressing up for the airport. I don't wear makeup 90% of the time, but for some reason when I travel I find it super mysterious/cool to look fly when I'm traveling.
I also love to be on a plane. Seriously detachment unplugging time to be had on flights!
When I did my last big trip, I was reminded of all the little things I needed to prepare, and wanted to gather it all together for you as a list, if you needed it in case your life takes you somewhere interesting this year :).
So, your guide to packing internationally like a badass bitch on da GO.
// To keep you organized //
Passport and Passport Holder: Le duh, but also make sure it's not expired or near expiration. I've had them question me because mine was set to expire in the next month. I love these super cute passport holders - so you never forget yours. (I did one in the Czech Republic eek!)
Credit Card: Preferably with no foreign transaction fee. I love my Capital One Venture Card because there's no fee and you get 2x the points for every purchase, it's been a game changer #adulthood.
Cash: Checking the currency of where you're going is key, I've fucked this up many a times. Watch the exchange rate a bit before you go (like a week) and try to correlate it so you get a better value. I do this when I go to London all the time, because the GBP changes so much.
Wallet: I know it's not super practical, but I really love and cherish my Prada wallet. It's lasted so long, and I use it every single day so it's worth the splurge! It's also a good gift idea (for someone else to get you, HA).
Backpack: I love wearing a backpacks when I travel because you have free hands to roll you suitcase, or whatever you need to do. These black vegan leather options are amazing and you don't need to really worry about them getting dirty or ruined because they are affordable.
// To keep you healthy //
Vitamins: I take so many vitamins it's almost weird. I personally buy into the benefits of vitamins and have noticed a difference when I am taking them vs. not taking them in things like my skin, energy levels and hair. I'll probably post a full list later, but when I travel I make sure to bring vitamins for nutrients that I may not be getting fully on the go. Like a multi-vitamin, Vitamin C, Iron, B-12 and Maca. I'm also partnering with HU nutrition at the end of the month, so will keep you posted on a product review of their stuff - but I love what they're about
Bars: All day. It's so key for me because there isn't shit at airports or when you're away to eat quickly, that's healthy and as delicious as protein bars. Now that I'm off that #questlife I have been on Vega Sport and Pro Base bars. It sucks because they have mad calories but they're the best possible thing when you're looking at that vs. a baguette in a french cafe.
Hand sanitizer: Key for staying away from all the germs that you'll encounter when traveling.
Trail Mix: I love the simple trail mix from Trader Joe's - it's sweet enough but no candy in it.
// To keep you busy //
Journal life is the best life. It's like my time to write down so much shit when I fly. Lists of things to do, goals for the year, next six months, etc. Use the hours where you're unplugged to really reflect!
iPad: For movies if that's ya thing. I sometimes can't because I feel weird watching movies with people around me for some reason.

iPad Mini (I use mine ALL the time, and it's like under $300 dollars)

iPhone: Download podcasts to listen to pre-flight so you can have them when you want! Would we ever forget our iPhones? No, but still, I also organize photos and delete shit when I have time on the plane. Best podcasts to listen to?
Portable charger: Game changer. I keep one of these in my purse to fuel my phone addiction! These ones are super cute:
Headphones: I feel like such a badass when I wear these gold headphones. I love these:
// To keep you beautiful //
Mini Face Washes: I really love Cetaphil mini face-washes. I have them in my gym bag too after I workout. You can get them at Target for cheap. My favorite face washes for travel are:
Lotion: Dry skin when you travel! It happens because there's no moisture in the air on a plane, I always bring a mini lotion, nothing fancy, like Suave.
Toothbrush: For brushing your teeth on the plane, especially after an overnight flight. Ya feel me?
Floss: If I bring it on a trip, I usually do it, but at home, I don't? It's weird.
Dry Shampoo: My everything. I wrote about Batise dry shampoo, but I also bring Bumble and Bumble Pret-a-Powder because it's not liquid, and it gives your hair lots of volume.
Sunscreen: A must, for anywhere you go really. These ones are nice because they go on, but don't leave that oily film that sunscreens can sometimes do.
Face Wipes: So good on planes when you can't fully wash your face but need to do something because you've touched the hand rest and your face 100x in an hour.
Travel size bottles for your shampoo: I usually just fill these up with my shampoo and bring them vs. bringing the full bottle.
BB Cream and Tinted Moisturizer: So key when you're on the go and don't want to do a full face of make-up.
Great mascara: I always go with drug store brands, they do the trick for 1/3rd as much
A good bronzer (to fake a glow because tanning is so high school Krista):
Hair products that are easy: I like caviar's because you can just spray it in and go! Plus it's super nourishing.
// To keep you cute //
Scarves: So key for flights because you can also use it as a blanket, and for anywhere because it adds a little something to a what could be plain outfit. I am huge scarf fan when I travel too because you can take it off it you're hot or use it to cover up should it get cold when the sun goes down or something.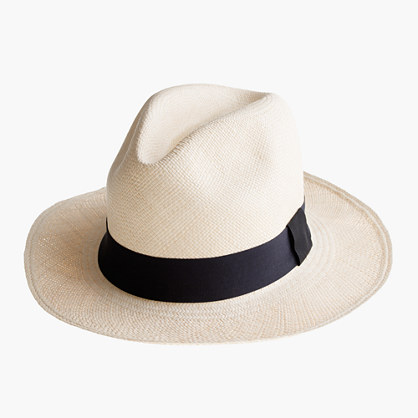 Sun Hat: V Important for tropical places to protect your hair (from fading) and face from sun. My hair color also fades quickly so having a hat is crucial. I love these from J.Crew - they're fairly affordable.
Sunglasses: SO KEY. Especially to hide my face so I don't have to wear make-up and conceal my tired jet-lagged eyes. I love love these ones, so chic and super glam. Quay really has it on lock.
Flats & Booties: Flats for walking around all day and booties at night. I'll bring heels, but sometimes you're on cobblestone streets or, if you're like me you're a foot taller than everyone so you feel a little out of place, so booties are the move.
Easy tops and bottoms: For packing and because most of the time you want to be thinking more about what you're doing today rather than what you're going to wear. I honestly just think that T by Alexander Wang is done SO WELL for travel (and everything here is under $100). You only need a few of these pieces forever, and you're super cute, comfortable, airy and you can dress it up or accessorize it. You're also not overstated in lots of patterns, etc.
Fitting the vibe: Also too, I search for inspiration of where I am going, to 'fit the part' and make sure my outfits fit where I am going. For an example, in Austin you can do a bit more color, floral and relaxed than what I'd wear in Paris. Everyone has their own idea of fashion around the world, and I try to pack for that vibe so I feel good about what I am wearing when I'm there. I think Sincerely Jules does a good job of fitting the vibe, peep her stuff (if you haven't already) here.
// To keep in case //
Neck pillow: Every time! I don't even know why I have it I forget so much. But I do love when I remember it.
Visine: For when your eyes are dry, especially with contacts, when flying.
Camera: I always forget, but your photo quality is so much better with a good camera. I have a Nikon DSLR 7000, so it's big but takes amazing photos.
Umbrella: Good to have if you need in places like London, Seattle, etc.
PHEW.
RIGHT? So I know this was a BEAR (because it was so much to write and link) but I'm hopeful it's helpful as a travel guide, or even as a guide for life essentials. because basically the Alexander Wang clothes should be my wardrobe staples for LIFE. All of this stuff I truly love and use, and feel strongly about or I wouldn't post it.
What are your essentials for traveling? Any brands or things you must have that I'm missing? Also if you've been to Vietnam, let me know what you think! I'd love to hear your feedback and tips on traveling Asia!
Also make sure to keep in touch on my trip via my social links, below and my snapchat @hundredblog. I'm going to try my best to keep you informed :)
Anything I missed? Happy Monday, friends! xoxoxo
Krista
Photo via: 2